The Session
Posted by admin
Aug 21
We had a mighty session in Water Rock House last night. We had guitars, banjos, whistles, flute, fiddles and a mandolin and people to play them of course!
Although we were scheduled to start at 9.30, it's Irish Time, so that really meant sometime after ten and we got going 'right on time' at about 10.15. We had lots of singers present, and all willing to give us a few 'bars', so there was great variety, we got everything from Bagatelle's Summer in Dublin to The Isle of Inisfree to Come Back Paddy Reilly to Niall and Sean's somewhat irreverent medley to quiet songs like Leaving the Land and Carrickfergus and loads of others.  We had loads of Jigs and reels and polkas too, and one or two slow airs thrown in for good measure.  The order was excellent, and I think everyone enjoyed the evening.
Thanks a million to Tom Cleere and Trish for their hospitality, the finger food was a great addition and very welcome!  All that singing and playing is hungry as well as thirsty work!!
Below are a couple of pics from the session. Enjoy, and maybe come along to the next one and experience it for yourself.  This is a great location for a session, we'll be back!!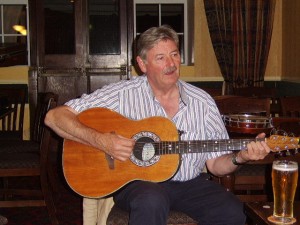 Warming up the Vocal Chords
With the session sorted now, it's full steam ahead with preparations for getting the choir up and running. Next deadline is September 6th, our very first official meeting of the Barony Choir.  We're looking forward to it!!  And we'll be planning the next session in the meantime!
Keep checking back for updates.